One of my 2019 collecting goals was to become of the "king" of something on the Trading Card Database. Well, less than two months into the year, I have done it. I am now officially the TCDB's #1 Keon Broxton collector. Not only that, but I've done it with ONLY Brewers cards - even though Keon has both Pirates and DBacks cardboard available.
So why Keon Broxton? Why a guy who played just a single full-time season with Brewers, never made an All Star team or won an award, and is now with the Mets? Well, it's pretty simple - Keon Broxton was a ton of fun to watch and has a lot of great cards.
This is the bunch that put me over the top - a six card lot of Topps High Tek that I picked up on eBay for a few bucks. The fact that not many other collectors are into Keon helps, as his stuff is usually pretty cheap. This lot yielded two numbered cards, for example, and cost me less than a buck each.
Keon spent most of 2018 in AAA and has, despite from gaudy numbers, probably been no more than little better a league-average player so far in his three-year career. He strikes out a lot and doesn't hit for much of an average. And despite his speed, he doesn't rack up many doubles or triples. But when he connects, he can generate filthy power. He hit 20 homers in 2017, included a 489-foot monster in St. Louis that was the longest ever hit at Busch Stadium.
But he's someone that can really, really shine at times. He is something of an expert at robbing home runs. So much so that many of his cards are devoted to it.
Does anyone else have TWO Topps Now cards dedicated to game-saving homer-robbing catches?
He also got a Now card for his ridiculous game June 29 game against the Reds. Just a few days after his first game back with the Brewers (he was called up when Lorenzo Cain went on the DL), he hit two homers and made a great play in the field. It was one of a number of circus catches he made in his first week back. So impactful was with the glove that per baseball-reference.com, he had amassed a defensive war of 1 FOR THE WEEK. A 1 defensive war is a pretty decent season.
And aside from all this, I've always felt like Keon seemed like a pretty fun guy in general and someone you just wanted to pull for. He's personally liked TWO of my tweets about him and his fun-loving nature made him very gif-worthy.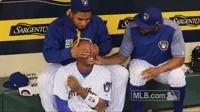 But sadly, Keon didn't really have a place on the Brewers roster and a month or so ago they traded him to the Mets where I really do hope he finds regular playing time and lots of success. He saw some action in the NLDS this year - he even hit a homer - but as far as ways go to end your regular-season career with a team, there was really no better way to do it than this:
So long, Keon.